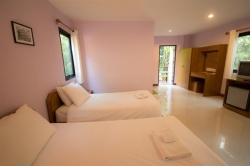 Being teeming with Lychee, mango and other varies of plants. This is the best choice for who loves shady nature and cool breeze.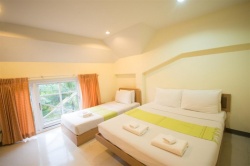 Enjoy your holiday and chill in a large size shelter for family or group tour with private corridor and a wood table underneath the shade.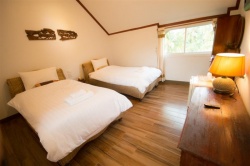 Completed in the end of 2012, Family Two Bedrooms is the latest shelter of Baantip Suantong, which is with 2-floor shelter nearest the resort entrance. It is Thai contemporary style decorated with wood furniture interior and modern cement exterior. There is little waterway beside the shelter, and you can see verdant view. In addition, we also provide a key card and wireless Internet..
A shelter in the garden zone near the Baantip Suantong entrance, which has a private garage behind the shelter. There are 4 rooms in a shelter, which each room has owned corridor. Standard is suitable for verdant atmosphere lovers with cool fresh air and birds singing at dawn.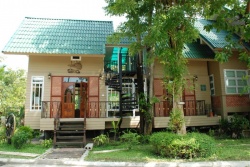 an economy room shelter with main facility is available on 2nd floor of the former natural therapy building.